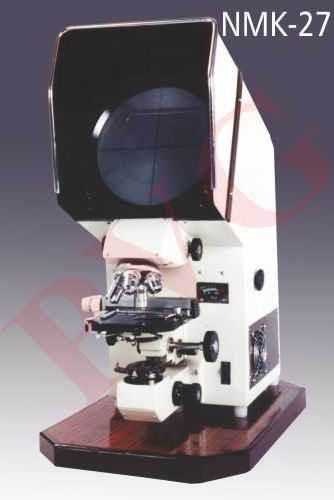 ADVANCE PROJECTION MICROSCOPE
For measurement of Microstructures, group discussion,  Research & yarn comparison. High quality of optics and electronic components used for excellent  performance. Images obtained are bright and contrastful with high resolution.
Salient Features:
Compact dust proof designed body.
Built in optical glass screen of 195 mm diameter, with high quality Fresnel lens ensures uniform illumination or fully graduated screen of 200 mm diameter with cross lines, in a domerotatable 360º.
With a pointer circle controlled by a knob near the screen to point out a particular area on the screen for demonstration.
Distortion free single projection Eye piece of 10 x or 15 x.
Quadruple revolving, precentered and click stop nose piece with centered and parfocal achromatic objectives 4 x, 10 x, 20 x and 40 x (spring loaded).
Built in graduated mechanical stage having coaxial drive controls with traverse 30 x 40 mm.
With stage micrometer for exact magnification required for linear and thickness measurement.
Coarse & fine motion graduated to 0.002 mm of micrometer form.
Condenser N.A. 1.25 with iris diaphragm having centering device being controlled by two knobs.
With built in collector.
Illumination by 12 V 100 W or 24 V 150 W projection lamp, light controlled by high frequency solid  state variable transformer.
Complete with three core wire, plug and dust cover.
Model MPY-57
Product Enquiry