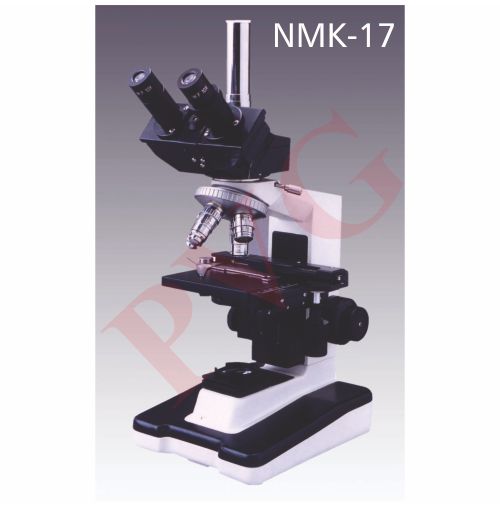 ADVANCE TRINOCULAR MICROSCOPE
Most advanced instrument with latest in design features.
High quality reliable optics for unparalleled performance.
Salient Features :
○ Trinocular head rotatable to 360º inclined 45º for maximum viewing comfort.
○ High transmission, multilayer coated optical  beam splitter and prism system for crisp images.
○ Trinocular head with convenient finger tip control lever for switching from binocular  to phototube viewing.
○ 10 x extra widefield antireflection coated eyepieces.
○ Dual diopter adjustment assures parfocality at any interpupillary distance between 54 and 74 mm.
○ Quadruple revolving nosepiece with DIN achromatic objectives of 4 x, 10 x, 40 x (spring loaded) and 100 x spring loaded with oil immersion.
○ Oversized 140 x 160 mm mechanical stage with ball bearing movement, low position central knobs and removable slide holder.
○ Corrected and central Abbe condenser N.A. 1.3 with iris diaphargm, filter holder with rack & pinion focussing.
○ Coaxial coarse and fine adjustment knobs, ball bearing fine adjustment movement with graduated  knobs. Positive preset travel stop.
○ In base variable voltage, 6 V 20 W precentered and prefocusse halogen lamp illumination system provides bright, even illumination at any magnification.
○ With dust cover cable in thermocole, wooden box.
Model: MTM-80
Product Enquiry