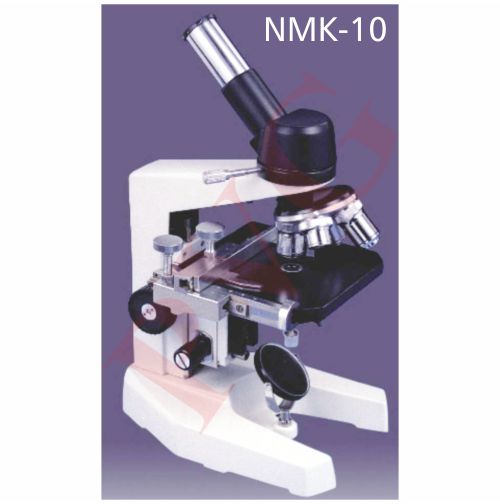 INCLINED MONOCULAR MICROSCOPE
Traditional Stable Stand, Rotatable Head
Convenient and Easy to use                                                  
Salient  Features :
Monocular head rotates 360º and is inclined 45º with 10 x wide field eyepiece, which can also be replaced by binocular head.
Quadruple revolving nosepiece with quick change of magnification by a click stop.
Achromatic objectives 4 x, 10 x, 40 x spring loaded,  100 x spring loaded oil immersion.
Positive, preset travel stops prevent body tube removal and slide damage.
Fixed stage 120 x 120 mm with precision mechanical stage for x and y movement of the slide upto 75 x 50 mm having fine graduated scale and vernier on both sides.
Dependable rack-and-pinion coarse adjustment with separate fine adjustment.
In-stage condenser and five- aperture disc or iris diaphragm with filter holder.
Illumination by plano-concave mirror which can be replaced by substage lamp.
Traditional stable stand and base finished to a very high quality.
Supplied complete with dust cover in thermocole case.
Model: MIM-48
Product Enquiry