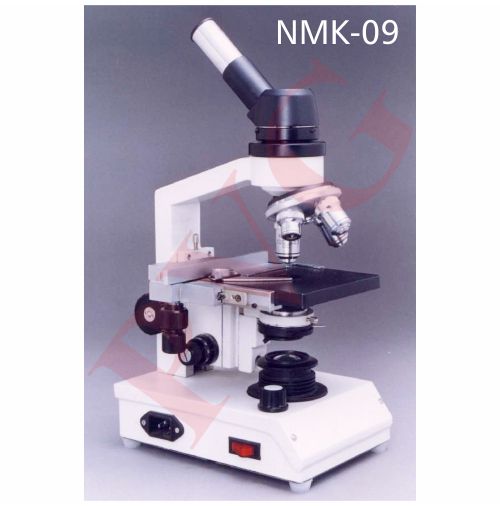 INCLINED MONOCULAR MICROSCOPE
High performance and economical price makes it a perfect choice
Salient  Features :
Monocular, 45º inclined, 360º rotatable head, with 10 x wide field eyepiece.
Quadruple revolving nosepiece with quick change of magnification by a click stop.
Achromatic objectives 4 x, 10 x ,40 x spring loaded, 100 x spring loaded oil immersion.
Best quality parfocalized and precentered objectives and eyepieces are provided to ensure finest performance.
Fixed stage 120 x 120 mm with precision mechanical stage for x and y movement of the slide upto 75 x 50 mm having fine graduated scale and vernier on both sides.
Graduated fine focussing knobs. Separate coarse and fine motion with deep cuts rack and pinion.
With positive preset travel stop, which prevents damage to the slide or objective.
Substage light field moving condenser 1.3 N.A. with iris diaphragm.
Heavy stable base with built-in illumination by 6 V 20 W halogen lamp through solid state transformer for use on 220 V 50 Hz A.C.
Complete with three core cable, three pin plug and rotatable
knob for low/medium/high illumination.
Model: MIM-50
Product Enquiry