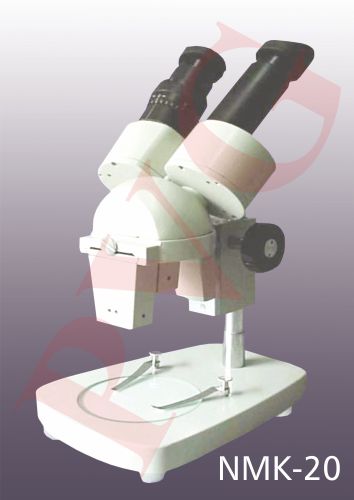 INTERMEDIATE STEREO MICROSCOPE
For day to day needs of research students in Agriculture, Entomology etc.
High Quality coated optics for sharp and clear vision.
Adjustable height to take large and thick specimens.
Salient Features :
► 45º inclined stereo head. With independent focus on left eye tube.
►  Paired 10 x wide field eyepieces.
► Slide in type of objectives 2 x and 4 x .
►  Widefield view and three dimensional vision with erect image.
►  Inter pupillary distance from 55 to 90 mm.
►  Working by rack and pinion with preset travel stop.
►  Pole type stand easily allows repositioning of the head to view specimens of varying height or thickness.
► Clear glass stage, black & white matted plate, removable stage   clips.
►  With a dust cover in a plywood case with lock and key.
Model: MSI-120
Product Enquiry